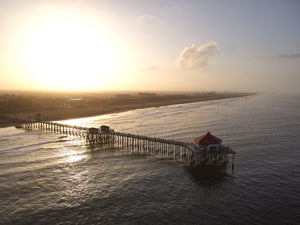 The Wedge - Huntington Pier
After taking the ferry boat from Balboa Island to the Balboa peninsula your tour guide will take you to the boardwalk where you will ride along the beach.
The first stop will be at Newport Beach's infamous Wedge. Located at the east end of the Balboa Peninsula, The Wedge is known for its large wedge shaped waves that make it a popular spot for surfing.
The tour then proceeds to Huntington Beach Pier, one of the longest public piers on the West Coast. Once in Huntington, our guides will leave you on your own to grab a bite to eat, relax, shop and enjoy downtown Huntington.
$125 per bike for 2 hours
Newport Back Bay Loop
Upper Newport Bay is one of the premier recreational and environmental assets in our region. The Back Bay Loop Trail provides an exciting opportunity for outdoor enthusiasts to discover a magnificent regional trail experience at the Bay.
The 10.5 mile Trail winds around Upper Newport Bay, with scenic stops at places like Upper Castaways Park, the County of Orange's Peter and Mary Muth Interpretive Center, the new Back Bay Science Center at Shellmaker Island, and Big Canyon.
$125 per bike for 2 hours
CDM - Crystal Cove
Leaving from Balboa Island, your tour guide will take you through beautiful Corona Del Mar along PCH to Crystal Cove.
Crystal Cove is listed on the National Register of Historic Places encompassing 12.3 acres along the Southern California coast. It was listed on the National Register not only because of its significance but also because of the 46 cottages located there which were built in the 1920s and 1930s. The historic district features a Ruby's Shake Shack and the Beachcomber Cafe.
$125 per bike for 2 hours
Wedge - Huntington Pier
Ride from Newport Beach's infamous Wedge to downtown Huntington
Newport Back Bay Loop
Discover this magnificent 10.5-mile regional trail experience at the Bay